Key Components of Our Business Continuity Program
More on Business Continuity Planning:
High Availability Recovery Plan
To mitigate the risk of having to perform a full system recovery in the event of a disruption, we have installed an identical IBM Power System environment at the HA data center with real-time data replication. Supporting these redundant systems are meshed network infrastructures to provide system availability and security if the primary production system should become unavailable. This allows us to continue providing core-processing services to our clients including CU*BASE, home banking and third-party vendor communications during most foreseeable events.
To ensure our readiness for a critical event affecting our primary processing facility, a semiannual rollover exercise is scheduled to shift processing from systems at our primary production data center to systems at our HA data center. This is a live online event, not a dress rehearsal. Performing this exercise live brings with it the urgency and demand for high performance from our systems and our recovery teams. This is yet another example of the pressure we put on ourselves in order to best serve our valued clients.
Due to the nature of these production rollovers, a minimal amount of downtime is required. This can range from 30-90 minutes, depending on the circumstances of the event. In some cases when issues do arise, actions are taken to collect debug information and/or perform additional checks and audits in order to ensure system and application stability. For these reasons, we schedule rollover exercises during non-peak operational hours.
In addition to testing our ability to perform daily operations from the HA data center, we also schedule regular rollover exercises to give us the opportunity to practice adapting to system, network, and application changes as well as to have time to perform system maintenance without interrupting service.
*The High Availability Recovery Plan is carefully planned and executed roughly every six months during non-peak hours.
For additional information, read about our most recent High Availability Recovery Test results.
Hot Site Recovery Plan
In the event of a disruption in which both the primary production and HA systems become unavailable, we have contracted the use of a fully-equipped and configured hot site facility from an IBM Business Continuity Recovery Services (BCRS) center. As per our agreement, we have access to one of multiple equipped centers nationwide. This allows us the capability of restoring core-processing services from an alternate site. This plan includes the process of restoring our data on new equipment (bare metal restore).
The Hot Site Recovery Plan is tested annually at an off-site IBM BCRS location. These tests are performed offline (parallel to production, with no interruption to production). No system downtime is required. During the exercise, teams are sent to the designated hot site for 60 hours of recovery and testing. We select multiple proxy credit unions and third-party vendors to test connectivity to and from the hot site during non-peak hours.
The Hot Site Recovery Plan is limited to core-processing applications and services (CU*BASE). In the event of an actual disaster requiring the activation of the Hot Site Recovery Plan, all other services and applications are recovered under the IT Recovery Plan. A hot site recovery event will require additional time for travel and system/data restoration from encrypted tape media. This may take up to 36 hours, depending on the location of the site and the circumstances of the event. Because of these additional requirements, we continue to invest in our HA data center and recovery plan to reduce the recovery timeline.
Read about our most recent Hot Site Recovery Test results and see when the next test is scheduled.
Why do we invest in testing?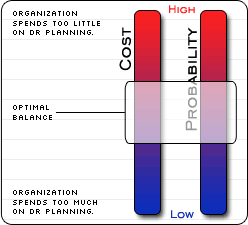 Creating a recovery plan without testing it provides a false sense of security. If it's not tested regularly, you can't be sure it will work when you need it.
A regular test schedule provides benefits such as:
Confidence that you can recover
Increased business resilience
Opportunities to correct errors and change procedures through lessons learned
The ability to identify more efficient procedures and processes to maintain a lean business environment
The opportunity to educate and prepare staff and increase their readiness
The opportunity to breathe life into the plan and make it a living document
"People make things happen, not plans."
Regularly testing our recovery plans provides the maintenance windows needed to give our systems a tune-up through hardware and operating-system upgrades and replacement without requiring application downtime. Keeping our systems running on all cylinders increases availability when we and our clients need it most.
In addition to our Hot Site and HA Recovery Plans, regular tests are performed on other applications and critical-vendor system processing including our Item Processing and Statement Printing Services.
Read about other recovery test results.
More on Business Continuity Planning:
Please wait...