CU*Answers is a Proud Participant in the
International Year of the Cooperatives
Cooperative enterprises build a better World because Co-ops:
Put People First
Are Innovators
Form a global network of independent, local businesses owned by those we serve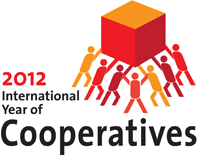 Co-ops Put People First:
We exist to meet the needs of our members. Period.
Members set priorities and elect leaders to oversee co-op operations.
Co-ops work for the sustainable development of their communities through policies approved by members.
Learn more about Co-ops
Visit USA2012.coop for more information about cooperatives and the International Year of the Cooperative.